Presidential library: Will it be Chicago or Honolulu?
(Read article summary)
The battle is on between Illinois and Hawaii for the right to host President Obama's library.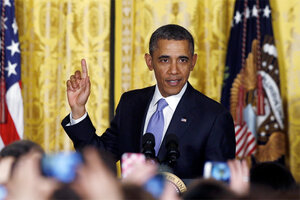 Charles Dharapak/AP
The latest literary feud pits the windy city of Chicago against the island paradise of Honolulu. And never before have two cities fought so bitterly over which gets to host... a library.
Of course, it's not just any library. It's a presidential library.
That's right, though the end of President Obama's term is four long years away, Chicago and Honolulu have already begun to mount ambitious campaigns to convince the president to house his presidential library in their respective cities.
And boy, are they trying. At least one of the campaigns sounds more like a pitch for a luxury vacation resort than a library.
Honolulu is attempting to woo the president with a $75 million plot of "oceanfront property on a rocky peninsula in the last undeveloped part of urban Honolulu," according to the AP.
The state legislature has apparently already passed two resolutions urging Obama to house his library in Hawaii, with one calling it "a matter of great state pride that President Obama is the first Hawaii-born citizen to hold that high office."
And it's building a case. Officials in the Aloha state argue the library should be built in Honolulu because the president was born there, the city attracts millions of tourists, and the site would be a fitting symbol of Obama's foreign policy focus on the Asia-Pacific region, according to the AP.
---