Quidditch World Cup VI this weekend
(Read article summary)
The top 80 collegiate teams from all over the world will compete in the sixth annual Quidditch Cup this weekend. Yes, it's an actual sport.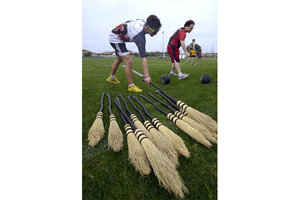 Quidditch, the game all young "Harry Potter" fans wished was real (older ones secretly did too) is now an intercollegiate sport. And they have tournaments. This year, more than 80 college quidditch teams will meet in Kissimmee, Fla., for Quidditch World Cup VI.
In the "Harry Potter" books and movies, Quidditch was a mix of baseball, handball, soccer, rugby and basketball (and tag) played on enchanted broomsticks. Muggles, instead, have to make the best of dealing with four different balls while keeping an earth-bound broomstick between their legs at all times while in play.
Settling seems to be the standard for Muggle Quidditch: Quaffles become "slightly deflated volleyballs" and the golden snitch becomes a 15th player (each team has seven on its side) dressed in yellow with a ball inside of a golden sock sticking out of the back of his pants, says Bleacher Report.
---