'Sex and the City' author Candace Bushnell is hacked, excerpt of her new novel leaked online
(Read article summary)
Candace Bushnell's computer was hacked by Guccifer, who previously claimed responsibility for posting former president George W. Bush's art online.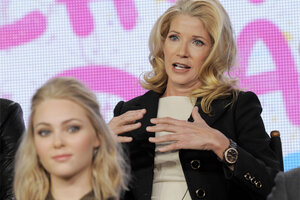 Chris Pizzello/Invision/AP
"Sex and the City" writer Candace Bushnell had the first 50 pages of her new novel leaked online after hacker Guccifer made his or her way into her e-mail and posted the novel excerpt as well as other materials online.
The hacker, who has hacked into other well-known figures' computers and posted information online about former president George W. Bush's artistic efforts, posted the novel excerpt online, then tweeted about it from Bushnell's account.
"Here you can read my last book 'killing monica' first 50 pages; enjoy as long as you can!" Guccifer tweeted from Bushnell's account.
The hacker then uploaded screenshots of Bushnell's correspondence with her agents as they tried to decide what to do, according to Gawker.
"The pages I sent Heather and Deb Futter at Grand Central Publishing from my new book, Killing Monica, have been HACKED… in other words, the beginning of the new book is now online for free," Bushnell wrote in an e-mail to her agents.
The excerpt from the book, currently titled "Killing Monica," features a woman named Pandy, who is telling a cab driver about her problems, including her divorce, as the driver takes her to the airport.
The pages were made available to the public through a link on the tweet made by Guccifer that led to a Google Drive account. The account contained screenshots of the manuscript's pages.
---