Maya Angelou: 'Mom & Me & Mom' explores a powerful mother-daughter dynamic
(Read article summary)
Maya Angelou's latest memoir tells of getting to know the mother whom she first called 'Lady' rather than 'Mom.' Maya Angelou is famous for her other autobiographical works, including 'I Know Why the Caged Bird Sings.'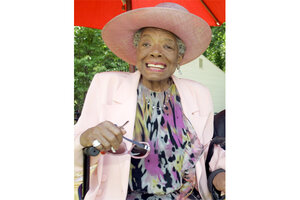 Nell Redmond/AP
Maya Angelou's new book "Mom & Me & Mom" – released a month before this year's Mother's Day – focuses on her relationship with her mother.
The book by Angelou – the author and poet well known for her many autobiographies as well for her role at Bill Clinton's 1993 presidential inauguration – discusses her life with her mother. Angelou and her brother were separated from their mother for many of their early years, living with their grandmother while their mother struggled with her marriage.
"Mom & Me & Mom" tells the story of how Angelou and her mother were able to reconnect later in life. Angelou told the Huffington Post that she realized recently how supportive her mother was of her.
"When teachers or people in authority put me down or in one way or another tried to make me feel less than equal to what they thought I should be – my mother was on my side," she said.
"Mom & Me & Mom" was released on April 2. The writer's other autobiographical works include perhaps the most well-known, "I Know Why the Caged Bird Sings," as well as "The Heart of a Woman" and "A Song Flung Up to Heaven."
Reviews of Angelou's newest memoir have been mostly positive, with the Monitor's books editor Marjorie Kehe writing that "admirers of Angelou's now-classic memoir 'I Know Why the Caged Bird Sings' will delight in this sequel."
---