DOJ calls Apple the 'ringmaster' in e-book price-fixing as trial looms
(Read article summary)
DOJ says Apple pressured publishers, while Apple denies the allegations.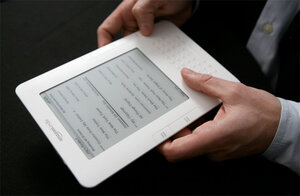 Mark Lennihan/AP
The e-book price-fixing trial hasn't yet begun and Apple and the Justice Department are already trading jabs.
According to news reports, court filings suggest the Justice Department is now painting Apple as the "ringmaster" pressuring publishers to adopt higher e-book pricing in a wide-ranging price-fixing conspiracy.
"Apple knew exactly what it was doing," the DOJ wrote in its filing in which it described Apple as the "facilitator and go-between," strong-arming publishing companies to go along with its scheme. "Apple assured Publisher Defendants that it understood and would support their goal of raising retail e-book prices as part of Defendants' grand agreement."
The DOJ's smoking gun? An email from the late Steve Jobs of Apple to James Murdoch of News Corp., the parent company of publisher HarperCollins, that reads: "Throw in with Apple and see if we can all make a go of this to create a real mainstream e-books market at $12.99 and $14.99."
As we reported in previous posts, the government's suit, which was first filed last year, accuses Apple and five publishers of conspiring to fix e-book prices in a scheme to force Amazon to raise its e-book price of $9.99. The five publishers – Hachette, HarperCollins, Macmillan, Penguin, and Simon & Schuster – have all since settled, leaving Apple to fight the government's charges alone. The trial is set to begin June 3.
---