'Bates Motel': it all goes back to a brilliant novelist named Robert Bloch
(Read article summary)
'Bates Motel,' which airs its season finale May 20, owes its origins to the novel "Psycho" by horror writer Robert Bloch.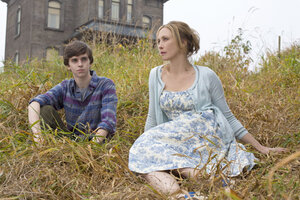 Joe Lederer/A&E/AP
More than 50 years after Alfred Hitchcock transformed Norman Bates into a cultural touchstone for violence, madness, and obsession, Hollywood's most infamous mama's boy has been reborn.
In "Bates Motel," a new A&E cable series that airs its season finale tonight, Norman is a teenager who lives with his mother. They're quite close, actually. And why not? As someone once said, "a boy's best friend is his mother."
Viewers like what they see, and "Bates Motel" will return for a second season, extending the legacy of a brilliant novelist named Robert Bloch. He created Norman Bates in 1959's "Psycho," the novel that inspired the original movie, the sequels, the remake, and more.
Carl H. Sederholm, an associate professor of literature at Brigham Young University, has devoted much of his career to exploring the horror fiction of authors like Bloch, Stephen King, and H. P. Lovecraft. I asked Sederholm to consider the meaning and influence of "Psycho," which introduced the world to a shy, awkward, and murderous maniac.

Q: How does the novel "Psycho" fit into its era and the history of horror fiction?

A: Robert Bloch holds a significant place in the development of modern American horror because of the way he took H. P. Lovecraft's style and expanded it to include a deeper investigation of human psychology.
---