Do Asian readers know about the anti-Semitism in 'Mein Kampf'?
(Read article summary)
North Korean leader Kim Jong-un has been giving state officials copies of Adolf Hitler's book, while the book is a bestseller in India.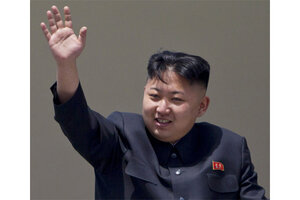 David Guttenfelder/AP
The latest "it" book in some Asian countries is evidence of a startling new trend: growing interest in "Mein Kampf," Adolf Hitler's anti-Semitic Nazi manifesto.
Hitler's autobiography is gaining popularity in North Korea and India, where fans appear to be relatively unaware of its anti-Semitic message and instead embrace the book for other reasons. The news, coming on the heels of German efforts to republish the anti-Semitic autobiography early last year, has revived debates about balancing freedom of speech and of the press with efforts to restrict hateful speech.
North Korean leader Kim Jong-un gave state officials copies of "Mein Kampf" as gifts on his birthday last January, according to a report in New Focus International, a newspaper run by North Korean defectors. "It seems the book was intended to promote a study of Hitler's economic reforms, and was not necessarily meant as an endorsement of Nazism," reports NPR.
---