Literary adaptation 'Under the Dome' brings summer TV back to the networks
(Read article summary)
'Under the Dome,' a summer hit for CBS, is adapted from a Stephen King novel.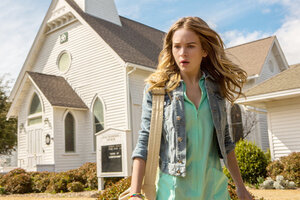 Michael Tackett/CBS Entertainment/AP
This season, a Stephen King novel is getting credit for helping to woo summer viewers back to network television.
The TV show "Under the Dome," based on the 2009 novel of the same name by King, debuted on CBS June 24 with ratings that The New York Times called "spectacular," drawing in more than 13.5 million viewers (the largest audience a drama airing in the summer months has received in more than 20 years). The show is scheduled to run for only 13 episodes, but producers have mentioned the possibility that the show could extend beyond that if it's successful. In an interview with Collider, producer Brian K. Vaughan said he and fellow producer Neal Baer had pitched King a story idea to be used "if we're lucky enough to go several years" and CBS president Nina Tassler mentioned the possibility of a "winter cycle" in an interview with the Associated Press.
Over the past few years, cable shows like HBO's "True Blood" and its first season of "Girls" have dominated both summer ratings and watercooler talk, so CBS's ability to take back some of the summertime buzz should be encouraging to the networks.
The show stars Alexander Koch, Jolene Purdy, Nicholas Strong, and tells the story of what happens when the residents of a small town are suddenly sealed in by a mysterious barrier that prevents anyone from entering or leaving the area.
Some King fans cried foul over changes made in the transition from page to screen, including characters which were combined with others. King penned a letter to these fans directly, which he posted on his website.
---