J.K. Rowling wrote it? No wonder 'The Cuckoo's Calling' is so good
(Read article summary)
J.K. Rowling used the pseudonym Robert Galbraith to publish her novel 'The Cuckoo's Calling,' which impressed critics but didn't experience notable sales.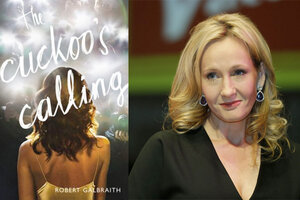 R: Lefteris Pitarakis/AP
Readers no doubt remember the worldwide anticipation that ensued when it was announced "Harry Potter" author J.K. Rowling was writing "The Casual Vacancy" – a new book aimed at an adult audience.
It turns out that Rowling's newest novel didn't receive quite the same pre-release buzz.
After receiving a tip, the Sunday Times of London discovered that Rowling was the real author behind a recently published mystery novel titled "The Cuckoo's Calling," which was billed as written by Robert Galbraith and originally released in April. In the author's bio, Galbraith was described as a former member of the Royal Police. The bio also noted that the name Robert Galbraith was a pseudonym – a completely accurate statement, as it turns out.
In her own statement last week, Rowling said she "had hoped to keep this secret a little longer."
"Being Robert Galbraith has been such a liberating experience," the author said. "It has been wonderful to publish without hype or expectation, and pure pleasure to get feedback under a different name."
Now that the cat is out of the bag, "Cuckoo's Calling" has soared to number two on the Amazon bestseller list and number one on the Barnes & Noble website. Because the book rose from such low sales numbers, the book's sales on Amazon increased more than 507,000 percent.
---