Comic-Con 2013: A look at past comic books and a glimpse of the genre's future (+video)
(Read article summary)
Gerard Jones, author of 'Men of Tomorrow: Geeks, Gangsters, and the Birth of the Comic Book,' explains the origins of comic books, the hardships they went through, and where they are apt to go next.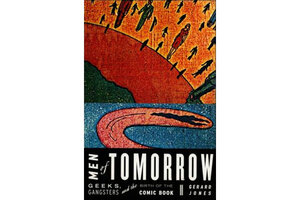 It's that time of year again. You know, when every headline writer on earth breaks out the "BAM!," "POW!," and "ZAP!"
Yup, Comic-Con International – the world's biggest comic-book and pop-culture convention – is being held this weekend in my fair city of San Diego.
Visitors and reporters spend much of their time on the convention floor, but there's more to Comic-Con than booths, posters, and celebrities. Walk upstairs and you'll find dozens of serious-minded seminars about topics like the history of comic books and the evolution of superheroes.
Can't make it to America's Finest City to hear about these hot if geeky topics? Never fear. Gerard Jones, the San Francisco-based comic-book historian, artist, and author of 2005's "Men of Tomorrow: Geeks, Gangsters, and the Birth of the Comic Book," is in town and took questions about eight decades of comics.
Q: How did comic books first come into being?
A: They came out of the newspaper comic strips, which were mostly humor along with things like Tarzan and Dick Tracy.
The first comic books were just reprints of the newspaper comics, a way for people to read their favorite strips with continuity. But some publishers couldn't sell newspaper reprints and began to commission new material.
---