Man Booker Prize long list includes writers Colum McCann, Tash Aw
(Read article summary)
While some books on this year's Man Booker prize long list have gotten buzz here in the US, none of them compare (so far) with the success of last year's winner, Hilary Mantel's 'Bring Up the Bodies.'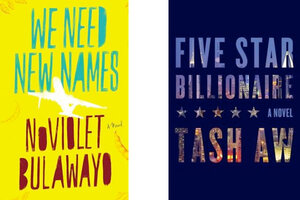 The long list for the 2013 Man Booker Prize was recently announced, with 13 contenders vying for the top award.
The Man Booker Prize is bestowed on an author from the UK, Ireland, or one of the Commonwealth Nations (including Australia, Canada, and India).
Last year's prize was won by popular author Hilary Mantel for her novel "Bring Up the Bodies," which followed Tudor courtier Thomas Cromwell. The author made history for being the first woman writer and first British author to take the prize twice.
This year's long list features writers from seven different countries. Nominees include "Five Star Billionaire" by Tash Aw, "We Need New Names" by NoViolet Bulawayo, and "TransAtlantic" by Colum McCann.
In a statement, Robert Macfarlane, who is serving as the chair of the judging panel this year and is a writer as well as a member of the faculty at Cambridge University, noted the diversity of this year's list.
---