'The Wizard of Oz' as ... a TV medical drama?
(Read article summary)
CBS is reportedly developing L. Frank Baum's 'The Wizard of Oz' as a medical drama set in New York.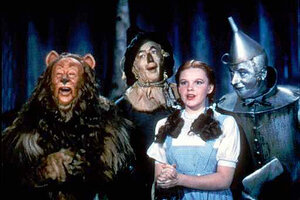 Warner Bros./AP
L. Frank Baum's "The Wizard of Oz" is set to be the inspiration for a new CBS show titled "Dorothy," which is described as "a medical soap based in New York City inspired by the characters and themes from The Wizard of Oz," according to Deadline.
Sarah Timberman and Carl Beverly, who have both executive-produced the literary adaptations "Elementary" and "Justified," are set to executive-produce the show. Writer Emily Fox, who worked on "Ghost Whisperer" and co-wrote the screenplay for the Olsen twins film "New York Minute," is writing the pilot and also serving as an executive producer.
---