What Louisa May Alcott's 'Hospital Sketches' reminds us about military hospitals
(Read article summary)
Alcott's account of her time working as a nurse during the US Civil War would be good reading for hospital administrators and politicians who are dealing with health care issues for veterans.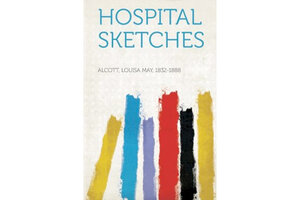 "I WANT something to do."
That's the opening sentence of "Hospital Sketches," Louisa May Alcott's 1863 chronicle of her time as a US Civil War nurse.
In period detail and prose, Alcott tells of her motivations and trepidations. Once past her wardrobe issues, her packing decisions, goodbyes, and halting travels south to Washington, DC, we get to her sketches of the wounded and how they fare.
Alcott was no Clara Barton and so it was easy for me to decide not to assign "Hospital Sketches" to the health science students in the "medical moments" literature-and-film courses I teach at Quinnipiac University. But I would definitely urge it on Veteran Administration hospital officials and politicians dealing with wounded warriors and their healthcare.
Before succumbing to typhoid fever and returning to Boston, Alcott washed the wounded and dressed their wounds, served rations, and provided whatever comforts and assurances were appropriate to a patient's condition and prospects.
While her military hospital nursing tenure lasted just shy of a month, her letters home detailed her significant patient-care involvements and interactions. The letters described the long and exhausting hours of nurses and physicians.
The "Sketches" are historical in that they do convey a sense of how the patients and their wounds were dealt with at facilities that were understaffed, under-supplied, and unprepared for the toll of war.
I can't help wondering if Alcott's accounts of the management of the hospital (which she dubbed "Hurly-burly House") might not ring true at some of our 21st-century VA hospitals: "the circumlocution fashion prevailed, forms and fusses tormented our souls, and unnecessary strictness in one place was counterbalanced by unpardonable laxity in another."
And of course the pain of seeing others suffer remains completely contemporary, despite the advances medicine has made since Alcott's time. Viewing the rough surgeries of those who were rarely salvageable, obliged Alcott, while on duty, to "cork up" her feelings. She learned "the wisdom of bottling up one's tears for leisure moments." Good lesson, good advice.
---