In Australia, a drone will deliver – books? Yes, really
(Read article summary)
The drone will be used to rush textbooks to students in delivery times as short as two to three minutes.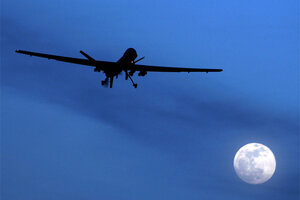 Kirsty Wigglesworth/AP
Now this is one drone we can get behind.
Australia is set to launch the world's first book drone, an unmanned aerial drone that would be used to deliver textbook orders to students.
According to Australia's The Age, Textbook rental service company Zookal has partnered with University of Sydney tech start-up Flirtey to fly rental textbooks directly to users within minutes.
Here's how it works: Students would order books from rental company Zookal via a smartphone app and one of six unmanned Flirtey drones would immediately deliver the books to students' doors. Students would be able to track the drones' progress in real time on a Google map.
The venture is still pending approval from Australia's Civil Aviation Safety Authority and its backers hope to launch the service in March 2014.
Flirtey plans to use laser range finders and sonar technology to help guide drones and avoid collisions with buildings, birds, and pedestrians – common problems in past drone experiments.
According to The Age, a special delivery mechanism "allows for textbooks to be safely lowered to the customer without the drone having to leave its hovering height of about three metres. If gentle force is applied to the drone's lowering cord, the parcel is released."
---