Amazon's bestselling titles of 2013 include Dan Brown, Khaled Hosseini
(Read article summary)
Amazon's 2013 list of bestselling adult titles includes Brown's 'Inferno' and Hosseini's 'And the Mountains Echoed,' while Veronica Roth's 'Allegiant' tops the children's bestseller list.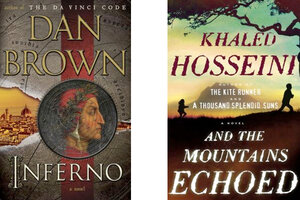 "The Da Vinci Code" author Dan Brown's newest novel "Inferno" is Amazon's bestselling adult book of 2013.
On Amazon's list of the bestselling titles for the past year, "And the Mountains Echoed" by "The Kite Runner" writer Khaled Hosseini is in second place behind "Inferno." J.K. Rowling's mystery written under the pseudonym Robert Galbraith, titled "The Cuckoo's Calling," stands at number three while the novel "The Husband's Secret" by Liane Moriarty comes in at fourth.
The top nonfiction title on the list is Sheryl Sandberg's "Lean In," which places fifth on the list. "The Hit" by David Baldacci comes in sixth, with John Grisham's "Sycamore Row" in seventh place. "Entwined With You" by Sylvia Day ranks eighth, "Never Go Back" by Lee Child ninth, and "The Storyteller" by Jodi Picoult places tenth.
---