Home prices: Where's the bottom?
Down 3.3 percent in the past year, median US home values are still 7.6 percent above 2004 levels.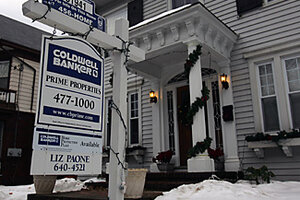 Mike Groll/AP
One of the big questions that hangs over both the US economy and individual Americans in 2008 is a seemingly simple one: What's a house really worth?
The problem is, the housing market is in an unusually volatile state. Home prices are posting rare declines in many cities, and potential buyers and sellers alike are wondering where the market will bottom out.
In this decade's raging real estate market, property values became untethered from reality, economists say. Home prices rose much faster than people's incomes or the rent that houses could earn when leased.
Now, home prices are in the process of moving back toward a more normal relationship with those fundamentals, housing experts say. But that doesn't mean that home prices will travel a predictable route.
"We think [the median price] is going to drop probably about 10 percent," says Patrick Newport, a housing economist at Global Insight in Lexington, Mass.
But "there are many possible paths" to a new equilibrium, he adds.
Some paths might involve more of a rise in rents or personal incomes – and a smaller decrease in home prices – over the next several years, for example. In effect, that would allow home prices to stay fairly flat while other factors adjust.
On Dec. 31, for example, the National Association of Realtors gave its latest numbers on monthly sales volumes and prices for previously owned homes. It showed that over the past three months, both sales volume and prices have been fairly stable.
---