As housing slumps, realtors quit
Many revert to former careers or, like Dee McMahon, look for new ones.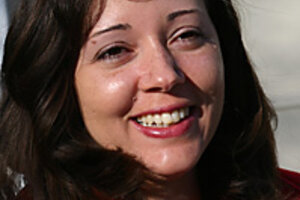 Patrik Jonsson
After three years showing houses in Atlanta's hilly suburbs, Dee McMahon is finished with real estate.
Yanking up her custom-made "For Sale" signs in her North Lake neighborhood rattled her ego, she admits. But when Ms. McMahon closed her final sale, a house in Snellville, Ga., in late November, the mother of two felt a swell of relief.
"Now I can finally get my own house back together," she says. "I'm nervous about the future, but I feel happy."
McMahon is one of thousands of real estate agents across the US wandering with mixed emotions and uncertain prospects through the debris of a real estate gold rush.
As many train for new careers, return to old ones, or wait tables until prices rebound, the plight of the real estate agent – average age, 51 – reveals the human dimension of how loose lending, raw opportunity, and self-determination produced a housing bust that has stunned the US economy.
"They've tasted success and big money, and now their standard of living has been rocked and reality has set in," says John Baen, a real estate professor at the University of North Texas in Denton. "The whole [economy] has been built on real estate. When the music stops, what is left?"
Americans are still drawn to working in real estate, according to the National Association of Realtors, which says its membership rose this year to 1.35 million. That growth in the ranks may be attributed to unaffiliated agents scrambling for clout in a tough market rather than an indication that the total number of agents is rising, the NAR acknowledges.
---