Automakers put bloggers in the driver's seat
Looking for a viral 'buzz,' they turn everyday Web writers into auto reviewers.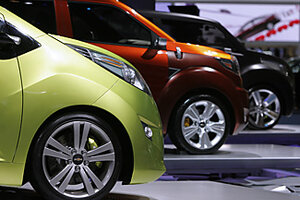 Kiichiro Sato/AP
Like most bloggers, Kim Moldofsky is low-key, writing about parenting issues from her basement after she tucks her children into bed. That fact made it all the more surprising when General Motors asked to fly her to Memphis, Tenn., from her home outside of Chicago to review their new Chevy Malibu for the Chicago Moms Blog.
"I have no expertise in cars, other than that I've been driving since I was a teenager," explains Mrs. Moldofsky, and that's precisely why GM wanted her.
Just five years ago, reviews in premier auto magazines could largely determine the fate of a newly released car. But with the rise in social media, those days may be fading. Now, automakers are reaching out to bloggers and Web media to create more personal reviews with vast viral marketing potential.
"The auto magazines play an important role, but they're definitely not the only influencers in the market the way they used to be," says Bill Stephenson, who manages all automotive clients for the Nielsen Co. and monitors online buzz.
---