Best U.S. factory jobs in rising jeopardy
As productivity abroad rises, US manufacturing is competing by trimming workers and wages.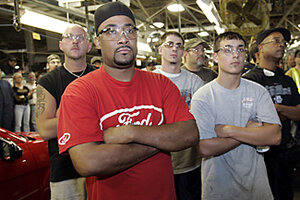 Rebecca Cook/Reuters/file
A new round of cutbacks by Detroit's automakers carries a larger message – that America's manufacturing workers are under new pressure in jobs where labor unions had once been able to command middle-class wages for assembly-line jobs.
The point was punctuated this week as General Motors announced the largest ever annual loss by a maker of automobiles. In a bid to restore profitability, GM said it would offer incentives to convince older, highly paid assembly workers to retire early. Ford and Chrysler are pursuing similar worker buyouts.
The moves signal what some analysts say is an accelerating effort to trim wages and workforces. Essentially, the old Big Three are becoming a much smaller three. The pressures facing Detroit fit a larger pattern. Many US manufacturers are facing rising pressure from foreign rivals. The good news is that US factories are becoming more competitive. The bad news is that the needed streamlining is coming at the expense of American workers.
"Those jobs are going and they're not coming back," says Gary Chaison, a labor expert at Clark University in Worcester, Mass. In part, he says, manufacturers see moves such as the job buyouts as "a path for them to become low-cost producers by eliminating the high costs of American labor."
---