A slowdown in U.S. economy, yes, but a mild one
Many economists say the stimulus plan and rate cuts will help soften the downturn.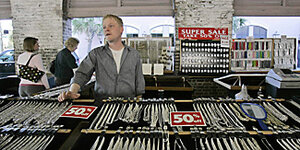 Mary Ann Chastain/AP
In the backdrop of grim economic reports, a silver lining stands out: Most forecasters say that a slowdown this year will be relatively mild.
In essence, they argue that rescue efforts, such as a stimulus package recently signed by President Bush, will help to offset – and contain – the fallout from housing and credit challenges. Americans in general will hang onto their jobs and keep spending their paychecks.
In a survey released this week, the consensus forecast among professional economists is for 1.8 percent growth in the US economy this year. Even the most pessimistic forecasters see a flat economy – with a period of recession but not an outright contraction for the whole calendar year.
To some extent, all this is cold comfort. When growth falls below normal, such a cooling has broad negative impacts even if it's not an official recession. The latest evidence came Tuesday, as Americans registered their lowest level of consumer confidence in five years in the monthly Conference Board survey.
Still, the scenario of a mild recession would mean that businesses and consumers are navigating their way, however slowly, through 2008's maze of mortgage defaults, $100-a-barrel oil, and lenders who no longer want to lend.
"The odds of a mild recession [rather than a deep one] are high," says Brian Bethune, an economist at Global Insight, a forecasting firm in Lexington, Mass. "The fiscal stimulus package … is clearly going to help."
---