Dividend investors at a crossroads
Market swing, tax changes may give reason to pause, not panic.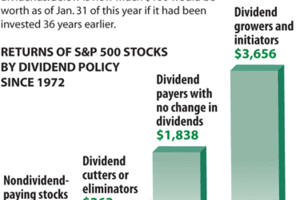 Scott Wallace - staff
When red ink splashes across your stock portfolio's statements, as it might be doing now, you could consider fleeing to stocks of companies that pay dividends. At least this way, you'd pocket some reward as stock prices swoon.
Or, maybe you shouldn't act too fast: Amid a changing market cycle and with possibly higher tax rates ahead, questions are arising about the allure of dividends.
Certainly, the long-term performance of dividend-paying stocks have been eye-catching: Over the 36 years ended Jan. 31, 2008, firms in the S&P 500 stock index that initiated or raised their dividend posted a 10.5 percent compound annual return. Over that same period, companies in an equal-weighted S&P 500 index had an 8.1 percent return and nondividend payers in this index produced a paltry 2 percent showing, according to Ned Davis Research.
"Stocks of dividend-paying companies … tend to be a port in the storm," says Ed Clissold, senior global analyst at Ned Davis Research in Venice, Fla. "When capital appreciation is weak or negative, investors still get the advantage of total return boosted by dividends."
And when investors take dividend payouts, they can get a useful income stream – money to pay bills or even to buy stock in another company.
As baby boomers age, many experts see more of them gravitating to dividend payers for retirement income. In order for retirees to make their assets last through their lifetimes, they "should only tap 4 to 5 percent of their investable assets per year" for living expenses, notes Greg Donaldson, whose firm, Donaldson Capital Management in Evansville, Ind., specializes in managing portfolios of stocks of dividend-paying firms. "If people invest in common stocks that yield 4 percent to 5 percent, they may never have to dig into their principal."
---