Bernanke and Paulson: economy's two key crisis managers
The Fed chairman and the Treasury secretary face tough scrutiny as policymakers.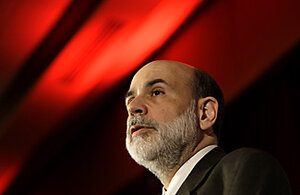 Pablo Martinez Monsivais/AP
With America in deepening financial floodwaters, the task of crisis manager falls disproportionately on two Washington officials.
One is a longtime academic economist who is as fascinated with the Great Depression as some people are with model trains. The other is a former star on Wall Street, long the top banker at a top investment bank.
This storm began brewing well before they took the helm of policy. But dealing with it now becomes a defining moment in the public careers of both Ben Bernanke and Henry Paulson. For Federal Reserve Chairman Bernanke, whose tenure comes up for review by the next president, the stakes include a simple personal matter: His job is on the line.
Neither is sitting idly by.
On Friday, for example, with the major investment firm Bear Stearns on the verge of collapse, a panic was averted thanks to intervention involving both the Fed chairman and Mr. Paulson, the US Treasury secretary. By Sunday, they had moved again, pushing the company into a sudden merger before stock trading began in the new week.
And on Tuesday, the Fed is expected to cut interest rates for its sixth time since September.
---