Signs the U.S. dollar free fall is ending
The greenback has bounced back a bit after hitting a record low against the euro last week.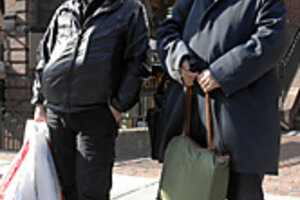 mark thomson
The great decline of the US dollar may not be over, but a slowing in the past week does hint at some limits to the free fall.
If the value of the dollar stabilizes, it would be welcome news for Americans worried about inflation – that their money isn't going as far when purchasing imported green grapes or gasoline. It would also offer comfort to other nations that are having a harder time selling exports to US consumers.
Since 2002, the dollar has been on a downward track. It's now at or near 35-year lows as measured by some indexes that represent baskets of other currencies. Last week, the dollar hit a record low against the euro, with $1.59 required to buy each unit of the European Union's currency.
In recent days, though, some signs of a dollar panic have abated. The greenback bounced back a bit against the euro. The price of gold – a metal seen as a haven in times of dollar distress – has plunged since mid-March.
What changed? The Federal Reserve indicated renewed vigilance against inflation, for one. The Fed's recent actions to shore up financial markets, too, seem to have calmed fears of chaos. On the heels of those steps, currency traders may have started wondering if their bearish bets against the greenback are running out of steam.
"I don't see a lot of downward pressures" continuing, says Nariman Behravesh, chief economist at Global Insight, an economic forecasting firm in Lexington, Mass. "Assuming that the economy recovers … we will not be looking at a dollar that will continue to weaken."
---