Vocation vacations: Job-auditing firm turns career switch dreams into reality
Our reporter takes a short stint with a perfumer. What this man 'nose,' you can learn.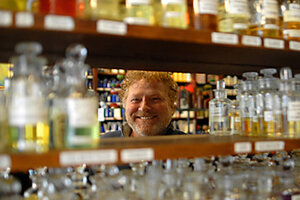 mark Thomson
I have always believed that I secretly possess inordinately acute olfactory senses. So when the opportunity to test this theory presented itself, I hopped on a ferry to the island of Nantucket. If it turned out that my sense of smell was as good as I suspected, perhaps I would exchange my pen and pad for a pipette and a future as a perfumer.
John Harding, owner of Nantucket Natural Oils and master perfumer, would be my guide. He is one of more than 300 mentors contracted by a company called Vocation Vacations (www.vocationvacations.com) to help people discover whether they might actually want to swap their current career for a life dabbing perfume on customers' forearms – or catering to a celebrity's every whim (celebrity personal assistant), or carving guitars out of wood (luthier).
A few of the other options that caught my eye: alpaca rancher, stained-glass artist, sled-dog trainer. There are also the more popular choices: doggie-day-care owner or sports announcer.
According to founder Brian Kurth, about 75 percent of Vocation Vacations participants fall on the side of vocationers – people seriously considering a career change who want to test the waters. The other 25 percent could be characterized as vacationers – retirees looking for a more directed holiday, people curious about what might have been had they earned a master's in architecture, or dreamers for whom the idea of raising alpacas should probably remain a dream.
The packages, which last from one to three days and cost between $549 and $2,000 (two days with Mr. Harding is $949), include an optional before and after consultation with a career coach and a Myers-Briggs personality test. I opted for the whole package, including the coaching and the test, but with an abbreviated half-day vocation vacation.
---