New car loans stretch to greater lengths
More buyers finance for six, even seven years – a risky move given how quickly some cars depreciate.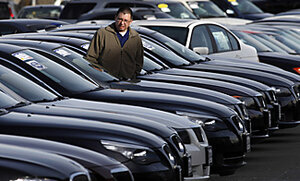 david zalubowski/ap
When it comes to car loans, Philip Reed clearly wants to practice what he preaches. When he bought his first new car, a $15,700 Honda Fit, almost two years ago, Mr. Reed took out a five-year auto loan that can be paid off early – something he aims to do this year.
"Shorter is better" with loans, proclaims the man who is consumer advice editor at Edmunds.com in Santa Monica, Calif. Indeed, Reed considered a three-year loan term until learning he could repay the five-year loan early.
But increasingly, other car buyers seem less averse to debt. Even as fallout from the subprime mortgage fiasco ripples through the economy, data show available car-loan terms stretching out – even in a few cases, to as long as seven years or longer.
On the face of it, that could mean the loan might last longer than ownership of the car.
"It's crazy," says Julie Bandy, editor in chief of Bankrate.com in North Palm Beach, Fla. Since cars lose value quickly, "you could end up upside down" on a long car loan – meaning the car could be worth less than the outstanding loan on it when you try to sell or trade it in.
---