With gas costly, drivers finally cut back
A decline in miles driven is the first since 1980.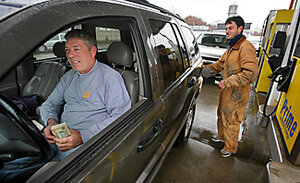 Melanie Stetson Freeman - staff
For the first time since 1980, when long lines sprouted at gasoline stations, Americans are beginning to cut down on their driving.
The slight decline in total miles driven – apparent first in December – may indicate that the twin forces of high gasoline prices and a struggling economy are starting to affect the US lifestyle. Surveys find that Americans now consider gasoline prices a "financial hardship."
If Americans are still balking at prices at the pump by Memorial Day, the effect on the economy may be wider – ranging from how people take vacations to how many trips to the mall they make.
"If you don't have a job, these prices are doubly hard," says Michael Swanson, an economist with Wells Fargo Economics in Minneapolis.
American's reluctance to pay an average of $3.28 a gallon for fuel has already had an effect: Gasoline inventories are high. If it weren't for the high stocks, gasoline prices would be even higher, energy analysts say.
Still, by Memorial Day, gasoline could cost another 25 cents a gallon, energy analysts estimate. By the time refiners switch over to the summer blend of gasoline, the price could rise again.
"My feeling is the price will approach $3.50 a gallon as gasoline inventories come down and people start driving more," says Sander Cohan, an energy analyst at Energy Security Analysis Inc. in Wakefield, Mass. "This summer, it's feasible for gasoline to hit $4 a gallon."
---
Follow Stories Like This
Get the Monitor stories you care about delivered to your inbox.