Time running out for U.S. farm bill
As deadline looms, lawmakers make a last-ditch effort to resolve funding and policy disputes.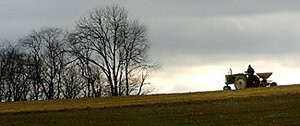 Jimmy May/Bloomsburg Press Enterprise/AP
This was supposed to be the week that Congress finally passed a new farm bill, to replace the one that expired six months ago.
It still might happen. But the behemoth $300 billion piece of legislation – which covers not just commodities subsidies and payments to farmers, but also food stamps, nutrition programs, and numerous conservation and energy programs – is having a rough time in congressional conference as leaders in both houses try to hammer out the differences between their two bills and figure out how to pay for the extra spending.
The idea that a farm bill might not get passed – necessitating a one-year extension of the 2002 Farm Bill or, in the worst-case scenario, a reversion to the antiquated 1949 "permanent law" – has numerous constituencies up in arms.
"The single most important thing that hungry Americans and food banks need right now is a farm bill," says Maura Daly, vice president of government relations for America's Second Harvest. Describing a "perfect storm" of spikes in food prices, decreasing food donations, and skyrocketing energy and health care costs, she says a simple extension of the 2002 bill would be unacceptable.
The Senate and House actually agree on a lot. Each has passed a farm bill that increases support for conservation, food programs, and "specialty crops" like fruits and vegetables, while leaving the central commodities portion largely unchanged, sticking with the same system of subsidies and payments to farmers despite an unusually strong call for major reforms this time around.
---