Maternity leave: Expectant moms wait 'til the last minute
With no US laws requiring paid leave, more mothers stay on the job longer, saving time off until after the baby arrives.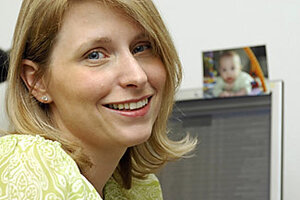 Joanne Ciccarello – Staff
Melanie Davis knew from the beginning of her pregnancy that she needed to work as long as possible. She achieved that goal, staying until the day before her son's birth.
"It would have been nice to have some time off before he was born, but I would rather have more time at home with him," says Ms. Davis, a vice president of the Birmingham (Ala.) Regional Chamber of Commerce. She concedes that she was tired at work near the end of her pregnancy. Other mothers tell similar stories of staying on the job until a few days – or hours – before heading to the delivery room.
Call it the American way of maternity. Eighty percent of pregnant women who work remained on the job until one month or less before their child's birth, according to newly released Census data for 2003. In 1965 that figure was 35 percent.
Most women work until close to their due date for two reasons: They need the income and they want to use their maternity leave after the baby arrives.
Davis, for example, received no paid maternity leave. She stockpiled vacation time for a year and a half, accumulating 33 days. She returned to the office when her son was 6-weeks-old, partly to take the load off her co-workers. "I also had to think about paying for day care, so I needed that paycheck," Davis says.
"Women are making the best decisions they can with the constraints they're operating under," says Ellen Galinsky, president of the Families and Work Institute in New York.
Those constraints include a lack of paid leave. The federal Family and Medical Leave Act allows for 12 weeks of unpaid leave during pregnancy or after the birth of a child. This applies to expectant fathers as well as mothers. The law, however, excludes companies with fewer than 50 employees.
---