Is the U.S. doing enough to alleviate the world food crisis?
President Bush has asked for almost $1 billion in new funds. But critics say the aid may come too late.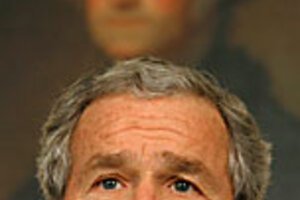 kevin lamarque/reuters
The Bush administration is pushing for an increase in US food aid and more flexibility in aid delivery at a time when natural disasters and soaring prices are threatening to spread hunger among some of the poorest in the world.
Critics point out that the new money wouldn't start flowing until 2009 – and that aid-policy changes could well be halted by US agricultural politics.
But many private aid groups still welcome the proposed moves as a sign of US engagement with a complex international problem – food shortages – that is unlikely to abate anytime soon.
"We really welcomed the president's announcement," says Robert Zachritz, US director of advocacy and government relations for World Vision, of President Bush's proposal of $770 million in new aid. "This administration deserves credit for responding to the current global food crisis in a significant way."
Burma (Myanmar) is the latest hard-hit nation where world aid groups are scrambling to get food to those who need it.
The US, for its part, has provided $250,000 in aid from an existing emergency fund to help international groups present on the ground, such as the UN's World Food Program, provide rice and other necessities.
President Bush on May 6 called on Burma's military junta to allow US disaster assessment personnel into the country in the wake of the cyclone that devastated the country May 3.
---