Oil Shock 2?
With prices at $120 a barrel, Americans are facing an oil adjustment.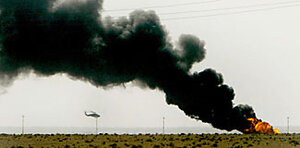 ian waldie/ap
Two years ago a leading economist published a study provocatively titled: "What would $120 oil mean for the global economy?" Answer: a global recession, if the price stayed there for a year.
Now the future has arrived, with the United States and other nations getting a double whammy from both the mortgage crisis and oil futures hovering at $120 per barrel. If oil prices stay stratospheric, the cost of fueling cars and planes could slash US economic growth up to 2.3 percent and global growth by 3.6 percent, says Robert Wescott, former chief economist of the president's council of economic advisers and author of the $120 oil report.
While many energy-security experts worry about a terrorist attack that suddenly crimps global oil supplies and hammers the US economy, Dr. Wescott and other experts say a terror attack is hardly the only, or even the worst, oil threat the nation now faces. "What we are seeing today is more of a slow-motion, rolling oil crisis rather than a sharp shock, yet ultimately we end up with the same sorts of impacts [as a terror attack]," says Wescott, now president of Keybridge Research, a Washington economic-consulting firm.
Unlike the 1970s, when an oil embargo left Americans waiting in long lines at gasoline stations and paying higher prices, today's oil crisis has been stealthy. Its economic impact has been masked by consumers tapping credit cards and home equity to cover the rising cost of energy and some consumer goods.
---