'Oil Shockwave' scenario: How the U.S. might deal with a terrorist strike
Prices suddenly shoot up to $160 a barrel. Former US officials gathered at Harvard University discuss how they'd respond.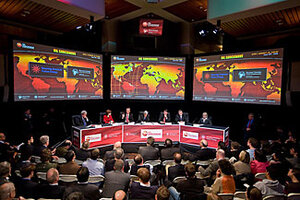 Courtesy of Greg Gibson
News flash: Terrorists sink an oil tanker, blocking the vital Bosporus Strait. Oil rockets to $160 a barrel and gasoline to $5 a gallon in the United States. What can keep the globe's biggest oil-guzzling economy from running dry?
Hunched in a war room, top officials are thrashing out the nation's options beneath illuminated screens depicting diving stock and energy markets. In minutes they must tell the president how to help the nation survive what some call the worst "oil shock wave" since the 1970s.
While the secretary of Defense warns of "a crisis within a crisis," the secretary of Energy is talking about a 55-m.p.h. speed limit. Someone mentions releasing some of the nation's 700 million barrel strategic petroleum reserve stored in salt caverns along the Gulf Coast.
"Let's not do anything with the strategic petroleum reserve until we talk with our allies," the Treasury secretary says emphatically. "It's important that we don't flail."
Fortunately, nobody is really flailing - because this is an "oil shock wave" crisis simulation held at Harvard University in Boston last month. The "Treasury secretary" was Lawrence Summers, who once held that job for real. Ashton Carter, Robert Rubin, Joe Lockhart, and other former US officials joined him in highlighting America's oil vulnerability.
---