Firms pump up the wellness
As healthcare costs soar, employers create incentives to keep workers healthy.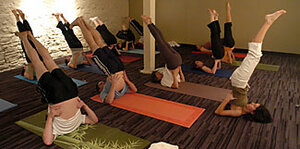 St. Paul Pioneer Press, John Doman
Thirty-nine people suspended for smoking. That might sound like a typical junior high school drama, but for the adult workers at Whirlpool in Evansville, Ind., it's a real workplace conflict.
The appliance company offers non­tobacco users a small bonus every year as an incentive to remain healthy. So when the management caught 39 people sneaking a smoke last month, they took issue with the employees apparently lying on official benefits forms to get the bonus.
"Falsifying company documents is a serious offense," read an official Whirl­pool statement, which added that the company's investigation is ongoing.
The incident at Whirlpool falls into a larger debate about how companies should implement employee wellness programs designed to mitigate the skyrocketing costs of healthcare.
Between 2001 and 2007, health insurance premiums rose 78 percent, according to a report issued in March by the Kaiser Family Foundation.
Many firms have found that getting their workforce into shape is much less expensive than paying for chronic health problems that result from tobacco use and weight issues. While a handful of companies have launched punitive programs, fining or even firing employees who fail to kick bad habits, many are achieving good results with incentives-based programs. Still, some worry that these policies turn the boss into Big Brother.
Programs grow stronger in number
Most companies with 5,000 or more employees have some sort of wellness program, and nearly half incentivize participation with rewards – monetary or otherwise, says Steven Aldana, CEO of WellSteps, a worksite wellness provider in Mapleton, Utah. Wellness programs can include anything from gym discounts to $1,000 annual bonuses for employees who stay fit and don't smoke. While these programs appeared sporadically just five years ago, now they're "exploding across the country," says Dr. Aldana.
---