'Foreclosure tourism' is a ticket to opportunity
The buyers on the bus seek dream deals on the homes where other families' dreams once lived.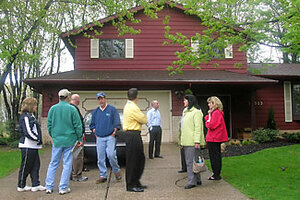 Wendy A. Hoke
Down tree-canopied Cromwell Drive – an entry point to middle-class America with its split levels, college pennants flapping in the breeze, and two newer cars in every driveway – lies the beginning and the end of the American dream.
The red split-level home at 33313 Cromwell Dr. looks as if it was someone's proudly kept dream home. And the "for sale" sign in the front yard seems innocent enough. But behind it lies a message of the angst of a family that just couldn't manage. Maybe they didn't pay close-enough attention to the balloon payment schedule; maybe they didn't have a choice in the refinancing process. Maybe someone lost a job, got sick, or died.
Though the empty house suggests the end of the dream for one family, this is still America – where legions of dreamers are ready to take their place. And in true American fashion, there's someone selling tickets to that place – on the foreclosure bus tour.
Complete with box lunches and lemonade – and a crew of onboard experts including a home inspector, mortgage lender, and representative of a title company – ReMax Haven Realty's foreclosure bus tour takes hopeful homeowners, at $15 a seat, to see the bank-owned homes that are in "short sale."
It's a nationwide trend: The foreclosure crisis – one in every 519 American households received a foreclosure filing in April, up 65 percent from a year ago – doesn't stop at the well-manicured boundaries of these affluent suburbs. Its reach extends into every neighborhood and income level. Maybe you've seen the foreclosure tours in your own neighborhood. They can be a welcome sight when your neighbor's home sits vacant for months on end.
---