Investing: Latin America bucks dour trends
Markets there produce healthy returns, but some analysts expect a correction.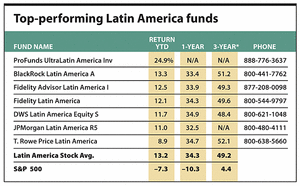 Source: Morningstar Inc. As of June 6 market close *annualized/SCOTT WALLACE – STAFF
If grim markets this year have skewered your portfolio's returns, you probably weren't investing much in Latin America.
While many world stock markets have been suffering, Latin America's have refused to follow suit. Through June 4, the Morgan Stanley Capital International Latin America equity price index has gained 11.6 percent this year, while the MSCI Emerging Markets index fell 5.8 percent and the MSCI World index shed 5.3 percent of its value.
Within Latin America, the MSCI Brazil stock index jumped 13.4 percent this year through June 4, while Argentina's leapt an even higher 22.5 percent. In addition, Colombia's stock market rose 16.7 percent, while Mexico's market climbed 7 percent.
Evidently, this showing wasn't just a one-off event: Over the five-year period, Latin America was collectively the best performing stock market region in the world on an annualized-return basis, MSCI data show.
---