U.S. wheat acreage rises – even in New England
Under the radar for 50 years, it stages a comeback in the region, due to rising demand.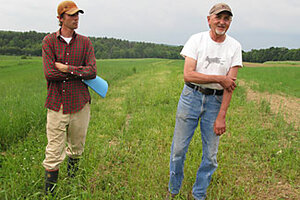 Peter Smith
No one would mistake the thin, rocky soil of New England for America's breadbasket. There's been no recorded tally of wheat here since 1946, according to federal records.
But under the radar, farmers in Maine, Vermont, and Massachusetts have been growing small quantities of wheat for years. Now, lured by high prices and growing consumer demand for breads made with local flours, they're expanding.
"It's nice to finally to get a fair return for what you're doing," says Jack Lazor, a dairy farmer in Westfield, Vt., who doubled his organic wheat acreage this year to 30 acres.
The expansion of small acreages here reflects a much larger nationwide shift back to wheat. After reaching a low of 57.2 million acres in 2005, farmers are expected to plant 63.8 million this year – an 11.5 percent increase. The extra boost in production should allow the United States to sell more of its grain abroad. US wheat exports are expected to jump 30 percent this year.
"There had been a shift away from wheat in the long term," says Jim MacDonald, farm productivity specialist at the US Agriculture Department in Washington, D.C. "But with the prices, I think a lot more people have turned that around in the last couple of years."
---