Stagnation and inflation box in Fed
Public expectations can make inflation hard to contain.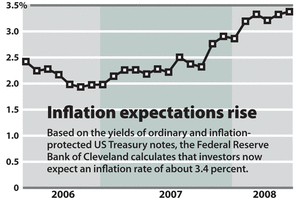 SOURCE: Federal Reserve Bank of Cleveland/Rich Clabaugh–STAFF
The global threat called stagflation has grown in recent weeks and is putting the Federal Reserve in a box.
Ordinarily, America's central bank likes to set interest rates based on conditions at home.
But conditions "at home" – including the Fed's own monetary policy – are increasingly tied to global trends.
Economists say that's one reason why Fed Chairman Ben Bernanke this week voiced concern about inflation, and why financial markets are now factoring in the likelihood of a higher Federal Reserve interest rate by the end of the year.
It's not that the troubles within the US economy have gone away. The slowdown that has caused the Fed to cut interest rates in recent months could still turn into a recession. That stagnation puts the "stag" in "stagflation."
But the global inflation pressures – centered in commodity prices expected to drive the US inflation rate higher in a report Friday morning – haven't been cooling along with the US economy.
At a minimum, many economists say, this means the Fed has little leeway to cut its short-term interest further from its current level of 2 percent. And the Fed could even be forced into an unusual position of raising interest rates later this year, even while unemployment at home is rising.
"The important thing to recognize is that we are more interconnected financially with the rest of the world," says Tim Duy, an economist at the University of Oregon in Eugene. "The expectation ... was that oil prices were going to go down" as the US economy slowed, but that didn't happen, he says.
---