Some signs of relief on gasoline prices
But short-term pressures may keep them up for a while.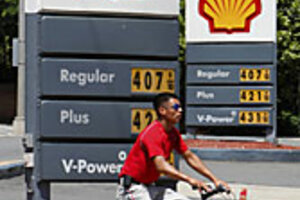 Jim Young/Reuters
Some of the long-term factors that have pushed oil prices to record levels are starting to change.
In large part because gasoline prices are over $4 a gallon, demand for fuel in the US is falling for the first time in 17 years. China is raising prices for gasoline and diesel – a move that might ultimately lower demand. And, on Sunday, there were signs supply might increase as Saudi Arabia's oil minister indicated that the country would increase production through the end of the year if needed. Iraq is also set to sign contracts with foreign companies to hike production.
"It's all a step in the right direction," says Phil Flynn, an oil analyst and trader at Alaron Trading in Chicago. "These are certainly signs to the market that prices can't just continue to go up."
However, some of the shorter-term factors are becoming worse.
On Friday, the energy markets were digesting news of an attack on a Royal Dutch Shell oil platform in Nigeria that shut down over 200,000 barrels of oil per day in production. Then energy traders fretted over news of an Israeli military exercise involving 100 planes, with some speculating that the aim of the exercise was to send a message about Iran's nuclear ambitions.
---