As price of oil soars, stock markets slump
Uncertainty over oil prices is a factor in Wall Street edginess.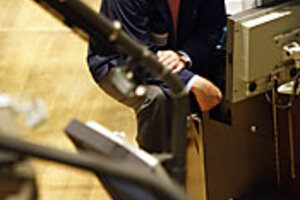 Brendan McDermid/Reuters
Investors are finding out that oil and stocks don't mix.
As the price of oil has soared – oil hit a new record of $142.99 per barrel last Friday – markets have slumped.
With the price of petroleum up 50 percent since the new year, the Standard & Poor's 500 index is down 12.6 percent. In the past month, the S&P has dropped 8.7 percent, the largest June decline since 1930, when the Great Depression was just starting. At the same time, the price of oil is up $13 a barrel, or 10.2 percent, for the month.
"Basically, Wall Street does not like uncertainty," says Sam Stovall, chief investment strategist at S&P. "This is the first time it doesn't know something – how high the price of oil will go."
The turmoil on Wall Street and rising price of oil is coming at a time when there are renewed concerns about another sector of the economy: banking, which continues to see large write-offs from the subprime mortgage crisis. That could be helping to drive some investors from stocks into commodities, including oil, market analysts say. This, in turn, keeps the price of oil moving higher even as supply-and-demand fundamentals deteriorate.
Normally, a slide in stocks does not necessarily translate into problems on Main Street. Indeed, the economy is currently receiving some strength from consumer spending as a result of the US government's fiscal stimulus package. On Friday, the Commerce Department reported that consumer spending in May rose 0.8 percent on a nominal basis.
---