Mortgage giants falter
Trouble at Fannie Mae and Freddie Mac could have broad impact.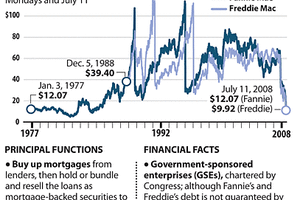 SOURCE: Fannie Mae, Freddie Mac, Yahoo! Business/© 2008 MCT
Their odd names hint at something significant: Fannie Mae and Freddie Mac aren't ordinary corporations, and when they're in trouble, the whole US economy takes notice.
It's not an exaggeration to say that the cost of mortgages, the value of people's homes, and even America's path through the current economic slowdown all hang to some extent on these mammoth conveyors of credit.
And they are in a tough spot.
They have a federal mandate to make sure mortgage loans keep flowing. Yet with the US in the throes of a historic housing downturn, both corporations are losing money.
These are not federal agencies, but suddenly talk of possible taxpayer bailouts is in the air after a big plunge in their share prices last week.
Such a bailout is unlikely, and talk of a crisis is premature, say some experts. But even so, the problems at Fannie and Freddie could well push mortgage costs higher – and make it harder for the housing market to recover.
"They're clearly in deep trouble," says Mark Zandi, chief economist at Moody's Economy.com in West Chester, Pa. "It does highlight the severity of the housing downturn. It's a problem for every homeowner."
In fact, the sudden erosion of investor confidence in these giant enterprises symbolizes one of the economy's great risks – that of a downward spiral in which the housing slump weakens financial institutions and then their problems bounce back and cause still more weakness in the economy and in home prices.
---