Ethical investing: Are US alternative-energy companies a good buy?
About a third of these firms are in the US, but some overseas prospects are too good to pass up, according to fund manager Carey Callaghan.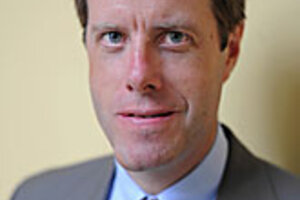 Ann Hermes
Alternative energy is one of the hottest trends on Wall Street. But for America's ethical investors, it mostly means buying stock in foreign firms. Now, companies in the United States are making a bid to take a bigger piece of the market. Is it time to invest in US alternative-energy funds? The Monitor's Laurent Belsie recently talked about that possibility with Carey Callaghan, co-portfolio manager of American Trust's Energy Alternatives Fund. Here's an edited version of their conversation. Can America become a leader in alternative energy?
I think it can, but we've got some work to do. We look at a universe of 125 companies that are squarely focused on renewable energy globally. Of those, 41 are in the United States – or about a third. But if you look at the value of those companies, it's only about 25 percent.
What areas in particular in the US show promise?
The US has a number of advantages that will play out in the next few years…. We have one of the best wind corridors in the world in the area east of the Rockies from the Dakotas all the way down to Texas. It's very windy when you get up to 60, 80 meters, which is the height of modern-day wind turbines. Then from a solar perspective, we have the US Southwest, which has one of the best areas in terms of number of days of sunshine and solar intensity, coupled with geothermal [sources] on the coast. [Also] we have the leading position in semiconductors, which is a cousin to the photovoltaic market. We're a leader in power-generation technology…. We also have a leadership position in materials science.
---