Feeling pinched? It's no time to crack the nest egg.
Resist the urge to panic, say pros, and keep on investing for retirement.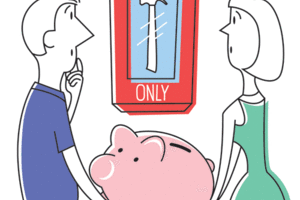 Scott Wallace - staff
If the deflated Dow – only now showing some sporadic signs of life – has drubbed your retirement assets, you might be eyeing the safety of your mattress with new interest. After all, why pour more money into now-shaky investments?
But do it anyway, experts say.
With the costs of everything from food to healthcare on the rise, there's an ever more urgent need to boost retirement contributions.
According to a new projection by consultant Hewitt Associates, today's workers on average will need fully 126 percent of their final pay every year after retirement to maintain their living standard.
Clearly, such news could hardly come at a worse time. Still, there's some promise. A recent report by the Charles Schwab Corp. indicated that many firms are strengthening 401(k) plans – easing enrollment, broadening investing options, even increasing matching contributions.
Retirement experts offer some dos and don'ts for handling retirement assets:
Three Dos…
•If your company offers a 401(k) plan, contribute a percentage that at least equals your employer's matching contribution rate. In fact, to help achieve an adequate retirement income, workers "should be contributing a double-digit percentage of pay," says Alison Borland, Hewitt Associates' defined-contribution consulting practice leader.
(IRS limits on contributions this year: $15,500, unless you're age 50 or older, in which case you can put in an extra $5,000.)
If participants in their 30s boost 401(k) contributions by 2 percent, they'll average 7 percent more assets at retirement than without this increase.
Workers who start putting money in a 401(k) plan – going from 0 to 2 percent of pay as contributions – will gain 25 percent more retirement assets than they'd have had without these savings, Ms. Borland reports.
•Rebalance your portfolio. Some of the markets' swings may have distorted your target allocation to stocks, bonds, cash, and maybe other asset classes.
---