Companies make room for baby
Despite distractions, they offer this unusual benefit to retain workers.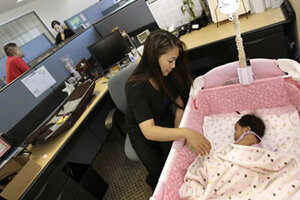 Tony Avelar/Special to the Christian Science Monitor
Between processing loans and checking e-mails, Jenny Guevarra stops to feed her baby daughter Liana Jasmine, cooing in a playpen next to her cubicle. Liana Jasmine is the second baby she has cared for while working at Valley Credit Union in San Jose, Calif. For Ms. Guevarra, the no-cost alternative sure beats daycare.
"I really am hesitant to put either of my kids in daycare because it's scary to leave them with someone else besides yourself or [your] husband. Having her here with me, I know what she's doing," she says in a telephone interview.
Between 2001 to 2003, approximately 25 percent of women left the workforce after having their first baby, according to US Census Bureau statistics released this year. Whenever expectant mothers leave the workplace, employers must scramble to fill their positions or redistribute their workloads to existing staff.
But for an estimated 104 US workplaces, the solution has been to bring the baby to work. Valley Credit Union has hosted 54 babies since its program began a decade ago. Currently, the office is hosting three babies with five more on the way.
"For us, it has defined our culture and allowed us to find some great ways to help our staff balance life and work for their benefit as well as ours," says Debbie Sallen, the company's vice president of human resources. "With the babies in the workplace program, the parents come back sooner; they work even harder when they have babies because they are appreciative."
---