AIG bailout: Where does financial crisis lead next?
Other large firms may be close to the brink.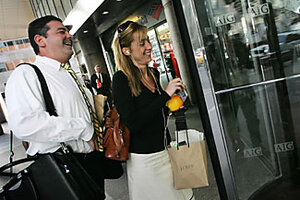 Mark Lennihan/AP
If one harrowing week can take the nation's largest insurance company from blue-chip stock to bailout recipient, how many other titans might fall? When do the financial implosions end?
After a Federal Reserve rescue of AIG Tuesday night, one big crisis was averted. But it's also clear that other companies may follow the insurance giant into a pickle that's increasingly familiar: Exposure to the troubled real estate market and an inability to raise quick cash to cover the resulting losses.
Unlike AIG, which was deemed to be too big to fail, most are unlikely to be rescued.
Already, some other large institutions may be close to the brink. According to news reports Wednesday, federal officials are working to line up a potential private-sector buyer for one of the largest home lenders, Washington Mutual.
In effect, what's going on is a new kind of bank run. It's a run not by depositors – whose money is federally insured in traditional bank accounts – but by investors. And the targets of distrust, while sometimes banks, can be insurance firms, mortgage lenders, or investment broker-dealers.
How many firms will be drawn into the vortex? The answer hinges on how two big forces unwind: falling real estate prices and pressure on financial firms to "deleverage," or make their balance sheets safer.
"There are a lot of credit risks," says George Feiger, chief executive officer of Contango Capital Advisers, an investment advisory firm in Berkeley, Calif. As a nation "we have borrowed more and more broadly than ever before."
On one recent weekend, mortgage giants Fannie Mae and Freddie Mac were taken over by the federal government. On the next, the Fed and Treasury declined to keep Lehman Brothers out of bankruptcy.
---