Mortgage hunt tough, not impossible
What borrowers can do to get favorable terms.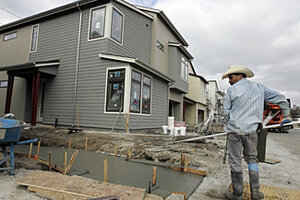 Paul Sakuma
If you were thinking of getting a mortgage before the current blizzard of bad financial events struck, the good news is: You can still get a home loan, and, at least for now, rates have been falling.
But the caveat is: You'd better be creditworthy.
The US Treasury's takeover of mortgage finance giants Fannie Mae and Freddie Mac earlier this month signaled that mortgage money will remain available.
"The recapitalization of Fannie Mae and Freddie Mac means they will continue to provide mortgages to good credit quality borrowers and at lower rates," than before the government intervened, says Keith Gumbinger, vice president of HSH Associates, which tracks consumer loans and mortgages. In effect, "good credit quality borrowers will not be as penalized for the difficulties of their less creditworthy brethren."
Despite the undoing of Lehman Brothers, the buyout of Merrill Lynch, and the bailout of insurer American International Group, creditworthy borrowers are still being welcomed by lenders. "Most of the private firms in the mortgage market had already pulled away, leaving Fannie Mae, Freddie Mac, and the FHA [Federal Housing Administration] as really the only games in town," Mr. Gumbinger says. "That hasn't changed."
---