Behind big job losses, a tighter credit squeeze
Layoffs are at their highest rate since 2003. A leaner holiday season is more likely.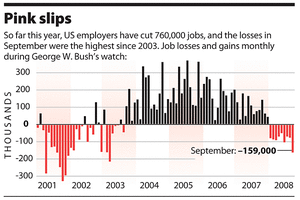 SOURCE: US Bureau of Labor Statistics/© 2008 MCT
Pink slips are now being handed out at the fastest pace since 2003 – an economic event that may have ramifications from the ballot box to the Christmas tree.
A downturn in hiring most likely means the credit crunch on Wall Street has now moved to the general economy, as business and consumers hunker down. If it were to continue at a high rate, a dearth of hiring also could mean that any downturn would be longer and deeper than expected, since employers are often slow to rehire workers. And the layoffs are starting just before the holiday season, potentially bad news for America's shopkeepers.
"Business and households are getting as lean as they can, to ride out whatever storm they have," says Joel Naroff of Naroff Economic Advisors in Holland, Pa. "If you are worried about a potential recession, you don't fill job openings."
The latest indication of layoffs came last Friday, when the Department of Labor reported that the US shed 159,000 jobs in September, a considerable increase in the firing rate. The unemployment rate remained at 6.1 percent, mainly because a large number of Americans dropped out of the labor force. The September numbers also showed that the number of Americans out of work for more than six months is at a five-year high.
After the government reported the jobs numbers, which were worse than Wall Street expected, there were rumblings that the Federal Reserve might cut interest rates as much as half of a percentage point to back up Congress's passage of the $700 billion financial-system rescue plan. "It's a distinct possibility anytime between now and the next Fed meeting at the end of the month," Mr. Naroff says. "But it would most likely have to be a concerted effort around the world."
---