Credit crisis overturns free-market ideology
The next president will decide whether the shift away from laissez faire is permanent.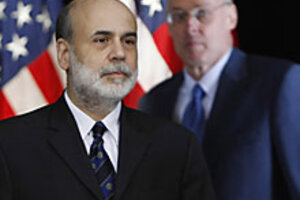 Gerald Herbert/AP
George W. Bush, meet Franklin Delano Roosevelt.
With its sudden and sweeping plan to pump $250 billion directly into America's banking system, a Republican administration in essence may have opted for a New New Deal, intervening in private markets to an extent not seen since the days of the Great Depression.
The world financial system remains so fragile that a free-market-oriented White House felt it had no choice but to resort to this partial nationalization. Now the actions of the next administration will determine whether the move is temporary or a turning point in the US government's attitude toward laissez-faire economics.
"You do what you have to do. It will be judged by its long-term consequences," says says Bruce Bartlett, a former economic adviser to Presidents Ronald Reagan and George H.W. Bush.
The move was the latest, and the biggest, in a long series of rescue attempts taken by the administration and the US Federal Reserve over the last several weeks in the wake of extreme stock market volatility and frozen credit markets.
---