US stares at a $1 trillion deficit. How bad is that?
The number ballooned amid the banking bailout. Tax hikes may lie ahead.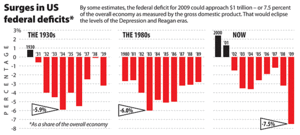 SOURCES: Office of Management and Budget, 2009 estimate by Committee for a Responsible Federal Budget/Rich Clabaugh–STAFF
The US government's extraordinary effort to rescue the banking system may have pulled America's economy back from the brink, but it comes at a cost – helping to push an already bloated deficit up to an estimated $1 trillion for this fiscal year.
That would be a record in today's dollars – and would represent the highest level of federal red ink as a share of the overall economy of any US budget since the 1940s. For each household, this year's deficit would pile on an extra $8,620 of federal debt.
As a result, future presidents may have to rein in spending and raise taxes to pay down that debt. If they don't, foreign lenders at some point could scale back their purchases of US debt, sending interest rates soaring.
"There are times when you need to run up the deficit and this is one of them," says Maya MacGuineas, president of the Committee for a Responsible Federal Budget, a nonpartisan group in Washington that came up with the $1 trillion estimate. "But we ran them up when we did not need to, and we have no plan to stop running them up. We have become serial deficit spenders."
It could be worse. The rising estimates of the deficit are based in part on the calculation that tax revenues will shrink as the economy contracts and unemployment rises. If the recession is less severe because of the bank rescue, then the deficit will be smaller. If Congress enacts a new economic stimulus package, the deficit could go up.
---