Workplace rewards kept simple
In a down economy, small steps to recognize workers can go a long way.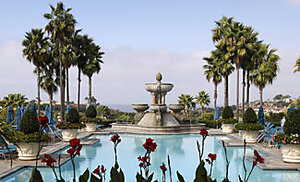 Chris Carlson/AP
When nearly 100 independent insurance brokers for American International Group (AIG) gathered at a posh resort in California last month as a reward for stellar performance, probably no one expected the event to make national headlines. But because the retreat came on the heels of a federal bailout for the company, the $440,000 bill – including $23,000 for massages and pedicures – sparked public outrage. AIG cancelled a second retreat.
The ill-timed celebration raises a question for other companies: What rewards are appropriate or possible during an economic downturn?
"Taking executives on a retreat is definitely not going to motivate employees who are frightened they are going to lose their job the next day," says Christi Gibson, executive director of Recognition Professionals International. But she emphasizes that this is not a time to abandon recognition. "During unstable times, recognizing employees is a great way to ease tensions. You can still have events and celebrations. They just need to be more personal and closer to home."
Companies spend an average of 2.7 percent of their payroll on recognition programs, Ms. Gibson notes.
"Rewards have their place when there's a budget," says Roy Saunderson, president of Recognition Management Institute in Montreal. "When you don't have a budget for rewards, you can still recognize people. Recognition reinforces the company's culture and values."
---