Can a Fed rate cut make credit flow?
An interest-rate move Wednesday could make some loans cheaper than at any time since 2003.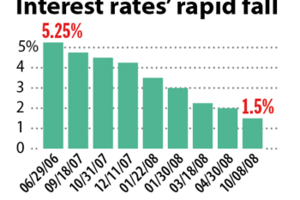 scott wallace - staff
For the ninth time in just over a year, the Federal Reserve on Wednesday is expected to cut interest rates, quite possibly its last reduction in this downturn.
The Fed's move would probably take rates to the lowest levels since 2003, when the economy was growing at a snail's pace, and could mean a full percentage point decline this month alone, a rare sharp drop and an indication of how quickly the central bank sees the need to respond to the sinking economy.
The rate reduction co-incides with a Fed rule change that allows it to pay interest on banks' excess reserves – a change that experts say gives Fed Chairman Ben Bernanke the ability to provide almost unlimited liquidity to the US banking system. This October one-two combination will be a powerful lever for the economy, economists say, perhaps enough to finally begin to relieve some of the pressures on credit markets.
"The Fed is pushing on the accelerator as hard as it can," says Mark Zandi, chief economist at Moody's Economy.com. "By paying interest rates on reserves, the Fed is able to provide so much cash to financial institutions that there will be no reason for them not to lend to one another and, by extension, to business and households."
If the Fed is successful, the change will be welcomed by struggling corporations, some of which are now paying more than 18 percent to borrow money. Even some investment-grade companies are paying as much as 9 percent.
"Anything with risk attached is [stuck with] high rates, so lowering rates would be helpful," says Mr. Zandi.
The Fed's move on Wednesday is expected to lower the federal funds rate – the rate at which banks lend their excess reserves through the central bank to other financial institutions – to 1 percent. Economists anticipate that other major central banks will also lower rates in a coordinated rate cut much like the half-a-percentage point drop in early October.
---