The year of holiday thrift
More consumers than last year say they'll look for bargains. Thrift shops are in.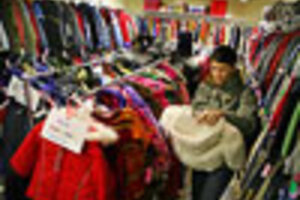 Melanie Stetson Freeman/Staff
The United States is becoming a nation of frugal bargain hunters.
This holiday period, Americans of all backgrounds are discovering what it takes to become a professional penny pincher and what makes a dollar stretch.
Some are forgoing the department store for Wal-Mart or Target. Gift givers are crowding into Goodwill or the local thrift store. Coupon clipping has practically become a new religion. And the latest stories to tell at parties start with: "Want to hear how I haggled with the merchant?"
Evidence of this declining interest in shopping came Wednesday, when the US Commerce Department reported that personal spending in October fell by 0.5 percent after falling 3.7 percent in the third quarter.
The deal hunters are expected to be out even more the day after Thanksgiving, when retailers traditionally use promotions and sales to entice Americans to shop. One early survey shows that 45 percent of Americans, up nine percentage points from last year, plan to look for high-definition television sets at reduced rates or anything else that discounters plan to offer at a low, low price.
"Almost half the people polled are looking to save money," says Erin Hershkowitz, a spokeswoman for the International Council of Shopping Centers, which did the early survey of shoppers. "The one retail sector still showing positive results is the discounters."
---